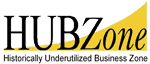 Zapata Technology has been an SBA HUBZone certified company since 2012.  (Recertified on Apr 28, 2016)
HUBZone Date: 02/08/2012

HUBZone Certification Number: 46921
The HUBZone Empowerment Contracting Program, which is included in the Small Business Reauthorization Act of 1997, stimulates economic development and creates jobs in urban and rural communities by providing contracting preferences to small businesses that are located in a HUBZone and that hire employees who live in a HUBZone.  SBA is responsible for regulating and implementing the HUBZone Program.  It certifies concerns for eligibility to receive HUBZone contracts and maintains a listing of qualified HUBZone small businesses federal agencies can use to locate prospective vendors.
The program, operated by the U.S. Small Business Administration, encourages economic development of small businesses in historically underutilized business zones.
The HUBZone program anticipates 3 percent of all spending for federal contracts will be awarded to HUBZone contractors.
HUBZone spending by government agencies can be tracked at: smallbusiness.data.gov.
Locations of HUBZone can be found here at the SBA's HUBZone Map.