What exactly is work-life balance and how can you ever achieve it in today's world? Forbes describes it as "a systemic issue for organizations, managers and employees," and I would have to agree. It's something that both management and employees must work on together to get a healthy balance. The tricky equation of work plus home-life (family/friends/hobbies) more often than not tends to lean more heavily on the work side. Many of us are guilty of feeling we should push ourselves to get everything done and done well, no matter the cost personally, but that imbalance eventually takes a toll.
For this reason, Zapata Technology puts the importance of work-life balance at the forefront of our values. Long known as a family focused / close-knit company, Zapata's history of including family and friends at social functions and annual trips and offering an abundance of flexible time off to enjoy the finer things in life, has helped create the culture we flourish in today.
In our new blog section, we'll explore and highlight ways in which we live our balanced culture, in an attempt to give outsiders a peek into our world and maybe even spread ways other companies can grow and invest in their own people.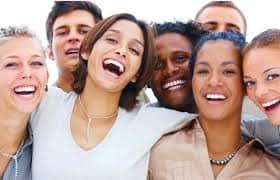 Laughter: the best medicine? Yes and no. In this blog, Christina Hall, Zapata's CHRO, explores important ways to support employees' well-being, keeping in step with the culture of work-life balance and happiness. Ever heard of an EAP?
A culture of support: Providing an EAP
Zapata Technology Open Job Positions